Electric Guitar Quartet
To play (stream) any of the songs below, on the players use the play, pause, or stop buttons, and the volume slider on the multi-song players.
If you want to download your own mp3 copy of any song, click the link or the D on the multi-song players.
---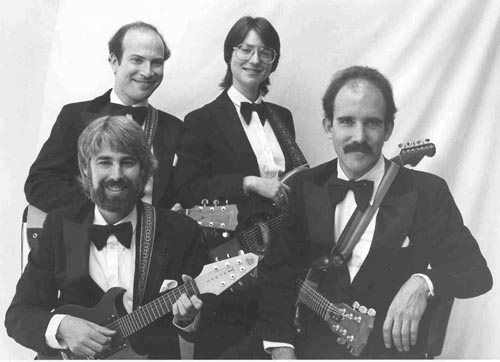 Clockwise from upper upper left: Warren Sirota, Kathy Greenstone, Van Williamson, and Ken Frankel.
Ken Frankel invented this group because he couldn't find enough classical mandolin players to play in a mandolin quartet. We started out just reading quartets for fun, but magic happened, and soon we were performing professionally throughout the Bay Area, and developing a loyal following. We played string quartets and other classical pieces on unique electric guitars which Ken specially designed to cover the range of usual string quartet instruments (violin, viola, and cello).


---

1983 Cassette We recorded these songs in Ken's home studio, and sold the cassettes at our concerts
J. Pachelbel -
Canon in D
---
Tom Constanten -
Alaric's Premonition - a gothic fugue en rondeau on a theme by J. Garcia
---
W. A. Mozart -
Eine Kleine Nachtmusik
Played one key below usual, and a little slower than usual to bring out the guitar sounds better.
A. Glazounow -
Slavic Quartet
An interesting discovery. The first three movements worked great for guitars.
Live Recordings of Pieces by J. S. Bach
This is the best that could be salvaged from the few recordings we made with cheap cassette recorders.
From our last concert, 1985:
Brandenburg Concerto No. 3
---
Allegro Moderato
Adagio & Allegro
---
Recorded in 1982:
Two more Bach pieces.
---
Brandenburg Concerto No.4 - Presto
Fugue
---
---